An Interview with Simone Osborne – MONC Winner 2008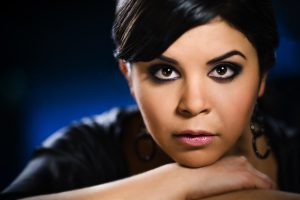 (From www.cami.com – with permission from Simone Osborne)
Canadian soprano Simone Osborne has been hailed as "a joy to hear" (Los Angeles Times) with "a sweet and clear sound, sensitive phrasing and gleaming sustained high notes" (New York Times). Ms. Osborne was one of the youngest winners of the Metropolitan Opera National Council Auditions and recently completed her tenure as a member of the Canadian Opera Company Studio Ensemble.
In the 2013 – 2014 season, Ms. Osborne returns to the Canadian Opera Company as Oscar in Un ballo in maschera and as Musetta in La bohème. She will make her debut with New York City Opera as Susanna in Christopher Alden's new production of Le nozze di Figaro, as well as with the Vancouver Symphony singing orchestral songs of Richard Strauss and as soprano soloist in Beethoven's Symphony No. 9. As first winner of Jeunesses Musicales Canada's new Maureen Forrester Award, Ms. Osborne will tour Canada in recital with pianist Anne Larlee. Future seasons will see her return to the Canadian Opera Company and Vancouver Opera, as well as debut with the Ravinia Festival and Edmonton Opera.
Last season, Simone Osborne debuted at Opera Hamilton as Gilda in Rigoletto and returned to Vancouver Opera as Pamina in Die Zauberflöte. Ms. Osborne also debuts with the Los Angeles Philharmonic under Gustavo Dudamel as Barbarina in Christopher Alden's production of Le nozze di Figaro and at Carnegie Hall with pianist Warren Jones as a part of the Marilyn Horne Song Celebration. She also took part in a special project with Lotfi Mansouri entitled Viva Verdi! in Zurich to celebrate the composer's bicentennial. The summer of 2012 saw her debut at the Saito Kinen Festival in Honegger's Jeanne d'Arc au bûcher as Marguerite under the guidance of Seiji Ozawa.
Ms. Osborne made her role debut as Gilda in Christopher Alden's production of Rigoletto and returned for Lauretta in Gianni Schicchi conducted by Sir Andrew Davis, both at the Canadian Opera Company in the 2011 – 2012 season. She also made her Vancouver Opera debut as Juliette in Roméo et Juliette to great critical acclaim. In concert, she made her Toronto Symphony debut in Mozart's Requiem under music director Peter Oundjian, was soprano soloist in the Victoria Symphony's New Year's Day Viennese Gala, and toured Canada in recital presented by Debut Atlantic Recital Series.
Ms. Osborne sang Pamina in Die Zauberflöte for her first major assignment with the COC. This production was conducted by music director Johannes Debus and directed by Tony Award-winning director Diane Paulus. She was also seen in productions of Death in Venice, Ariadne auf Naxos, and Orfeo ed Euridice. As first year member of the COC Ensemble, Ms. Osborne performed the role of Ilia in the ensemble performance of Idomeneo under the baton of Harry Bicket. She was also seen as Frasquita in Carmen, Anne Kennedy in Maria Stuarda, and Rosina in Il barbiere di Siviglia on tour, as well as a performance of the Pribaoutki songs in the premiere of Robert Lepage's The Nightingale and Other Short Fables.
An active recitalist, Ms. Osborne was heard in recital as a part of the Marilyn Horne Foundation's "On Wings of Song" recital series, as well as a solo recital for the Hong Kong Arts Festival in the spring of 2010. She also joined the Edmonton Symphony for performances of Bach's Jauchzet Gott in allen Landen and Mozart's Exsultate, jubilate.
Previous operatic roles include Susanna (Le nozze di Figaro), Nannetta (Falstaff), Gretel (Hänsel und Gretel), Musetta (La bohème), Atalanta (Serse), Mignon (Mignon), Mařenka (The Bartered Bride), Candace Brenner (A Wedding), Laetitia (The Old Maid and the Thief), Papagena (Die Zauberflöte) and Emma Jung in the world premiere of the Canadian opera The Dream Healer.
Along with the 2008 Metropolitan Opera National Council Auditions, Ms. Osborne was the 2008 winner of the Marilyn Horne Foundation Competition at the Music Academy of the West, the 2007 winner of the International Czech and Slovak Opera Competition and a prizewinner at the George London Foundation Competition, Palm Beach Opera Competition, Sylva Gelber Foundation, and Jaqueline Desmarais Foundation.
(Updated September 2013) From www.cami.com
– with permission from Simone Osborne
VOG Interview with Simone:
1. When did you become interested in singing and in opera in particular?
I fell in love with opera when one of my first singing teachers handed me the sheet music of Puccini's "O mio babbino caro". I had only sung musical theatre and folk songs until that point and I fell in love with the melody, the language and the style. But I wasn't until I started studying at the University of British Columbia as an opera performance member, that I knew this was what I wanted to do with my life.
2. Describe your experience auditioning for the Met Opera.
I was 20 years old when I filled out the paperwork to audition for the Met auditions in Vancouver. I didn't think for a second that I would move past Vancouver much less make it to New York City. I just wanted three new opinions on my singing from the judging panel. Obviously, the whole experience from Vancouver through Seattle and two rounds (and two weeks!) in New York were a life changing experience. Every single person I came into contact with, from the guild members in Vancouver and Seattle, to the highest levels of administration at the Met, was kind, supportive and seemed genuinely invested in finding the next generation of singing stars. It goes without saying that walking through the stage door to sing on the stage of the Metropolitan Opera with the Met Orchestra was a day I'll never forget.
3. How did you choose your pieces?
I put a lot of work and thought into the five arias I chose to present. There were five languages represented (including Czech!) and styles ranging from Mozart to Puccini and Stravinsky. I was conscious to show my dramatic instinct by highlighting different kinds of characters from the coquette Musetta to Pamina's heartbreaking Act 2 aria. But at the end of the day, I sang music that I really loved and felt I had something to say about. I can't stress enough the importance of singing what you love. Afterall, competitions are so subjective, and at the end of the day, if you sing something you love, and are proud of what you said about it, no one can take that away from you.
4. What has happened to you since the audition in Vancouver? Where do you go next?
After I won the Met Auditions in 2008 I came back to Vancouver to finish my studies at UBC. I was anxious to keep the momentum going and take many of the wonderful opportunities that were being offered to me. However, I am so glad I took the advice of my most trusted mentors and members of the Met staff, and moved slowly and carefully through the very beginning of my career. After a final year at UBC, I joined the Canadian Opera Company's Ensemble Studio program in Toronto. I went on to sing many supporting and leading soprano roles with the company over my three seasons as a young artist. This is now my second season as a freelance, professional opera singer. Last season took me to 12 countries in as many months, singing on concert and opera stages from Carnegie Hall to a 15,000 seat stadium in Zurich, Switzerland. Highlights included debuts with Gustavo Dudamel and the Los Angeles Philharmonic, Seiji's Ozawa's Siato Kinen Festival in Japan, recitals in Hong Kong, Ireland, and across North America. It is always a joy to perform at home and I am so especially grateful to the Canadian Opera Company and Vancouver Opera for affording me the opportunity to be at home and grow as an artist on my own home turf. I am also unbelievably grateful to everyone involved in the Metropolitan Opera National Council auditions for all of the work they do to help young singers. I know that many of these opportunities would not have come my way were it not for the confidence gained from winning the Met auditions and the prestige of having the support of this incredible institution. More importantly, I have no doubt that I am a greater artist than I would have been at this point, thanks to knowing that the Met believed in me. For that, I will be eternally grateful.
5. What advice do you have for future participants in the competition?
Everyone knows what best sets them up for success in preparation both months and days prior to a high stakes performance. Do your very best to perform at the highest level you possibly can at this moment in your development. Do the work, know what every word means, make decisions about the music you are performing, strive to be a great artist, rest well, and then go out and just perform. Set yourself up for success, and then go out there and shine. Remember why you sing. You are an artist, and you are special. Don't walk out there thinking of the outcome, just walk out with the goal of making beautiful music. After all, that's what it's all about, isn't it?
6. Do you have any thoughts on the Vancouver Opera Guild and its role in the Opera community?
I can't tell you how lovely it is to come home and sing. It is a gift to be surrounded not only by family and friends, but by a larger family of supporters an cheerleaders that have been on my team and invested since I was an undergrad student at UBC. When you spend most of your life on the road an in and out of hotel rooms, it is wonderful to come to a place and know that you will see a familiar faces and make music for people who truly care about that music. The atmosphere that the guild creates backstage at Vancouver Opera makes a contract with them all the more special. I have become close with many guild members and am grateful to catch up with them from local performances on the west coast all the way to Toronto and beyond. The guild members contribute so much to the local music scene and should be commended for their commitment to making a difference in the lives of people who live for their art. You make our lives all the more bright!