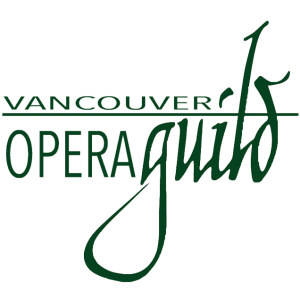 2018 Career Development Grant – Singers – $6,000
Each June, the Vancouver Opera Guild presents a Career Development Grant to a person involved in the field of opera. The purpose of the Career Development Grant is to assist young singers who are preparing for a career in the performance area of opera or those involved in the technical or production areas of opera by helping them financially so that they can improve their skills or work on a personal project related to opera. The Career Development Grant is available only to Canadian citizens or those with Landed Immigrant status. The Grant is not available to students for the completion of a music degree.
The 2018 Grant of $6,000 is available for singers only. It will be awarded to a singer (between the ages of 20 and 33 years) who intends to make his/her career in opera. Additional awards may be given when funds are available. Those involved in Production (stage management, directing, costumes, set design, etc.) may apply for the 2020 Grant from the Fall (November) of 2019. The deadline for receipt of completed applications from singers is April 15, 2018.
Applications will be judged by a jury of three members of the opera/artistic community on the following points:
potential of the applicant
merit of the project
education/training and artistic/operatic background
The Career Development Grant will be made available at the start of the successful applicant's project. The recipient must send a report on the project to the Vancouver Opera Guild not later than three months after its completion.
Application Form and Materials
2018 CDG Regulations (Singers)
For more information and application forms, please contact:
Mrs. Susan LePage
9531 Neill Place
Richmond, BC V7E 5J6
Phone: 604-274-2729
e-mail: lepagesmail@shaw.ca or www.vancouveroperaguild.com
Updated: November 26, 2017