VOG Santa Fe Opera and Art Tour
August 4 – 10, 2014
Opera + Art = A Fabulous Time!
Our congenial group of 22 coming from Victoria, Vancouver, Chilliwack and Toronto, with sleep still in their eyes, boarded the 6:30 am flight from Vancouver to Santa Fe, through Denver. The early arrival in Santa Fe meant that we could not only enjoy our own reception but still partake of the Inn of the Governor's sherry and biscuits before even thinking of supper! For some, though, the VOG's reception, including margueritas and substantial wraps, chips and dips, was supper! After briefly getting acquainted with each other and making plans for the week, we retired to our rooms, with heavy rain drops suggesting an early night was in store.
The sun greeted us the next morning as we enjoyed the Inn's scrumptious and generous breakfast table before leaving for a backstage tour. Who knew that the moat filled with water between the audience and the orchestra actually had a purpose! Yup – acoustics. The docents (volunteer tour guides) are passionate, informed and knowledgeable about answering most questions. After an hour + tour and a stop and shop in the gift shop we ventured off to the San Ildefonso Pueblo, home of Maria Martinez, the founder of the black pottery art tradition. A self-guided tour of the quiet pueblo would have been enhanced with a local tour guide….but nonetheless a first time experience for many to see original pueblos with their adobe homes, outside baking ovens (hornos) and sacred ceremonial areas with a kiva.
Warm summer weather enveloped us for the evening performance of Fidelio, the first and last opera of Beethoven. Stephen Wadsworth's production gave a concentration-camp spin on the tale of a political prisoner who is liberated by his wife after she has disguised herself as a man and apprenticed with the prison warden. Mr. Wadsworth is only the latest director to set Beethoven's liberation opera in a recent political context. Voices were in general light – Mozartian; Greer Grimsley was a convincing Don Pizarro (he will be singing Sweeney Todd in VOA's 2014-15 season).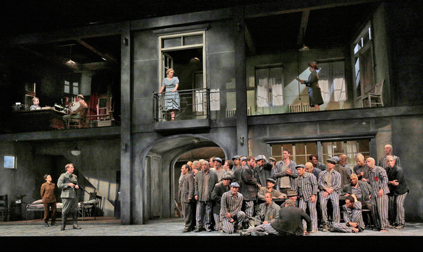 Photo credit: NY Times August 3, 2014
 The next night was Carmen, which was certainly not unfamiliar to any of us, but Stephen Lawless's new film noir production with the action set in Mexico around 1960 was a new twist. The smugglers here become drug dealers who run a brisk trade not only across the American border but with the garrison too. The set's wooden surfaces also become screens for video projections by Jon Driscoll that range from grainy black-and-white landscapes and vintage footage of bullfight audiences to close-ups of the opera's principals at key moments. Thus we are able to glimpse Micaëla as she tends to Don José's mother, a character we hear about a great deal but who normally remains invisible. Later, at her funeral on a barren hilltop, Don José stares ahead grimly, clearly smarting from Carmen's ill treatment, as Micaëla steals glances at him. When the set was open at the back, it provided a perfect mountainous landscape for the drug smugglers! Ana Maria Martinez (Carmen) was drop-dead gorgeous with a voice to match.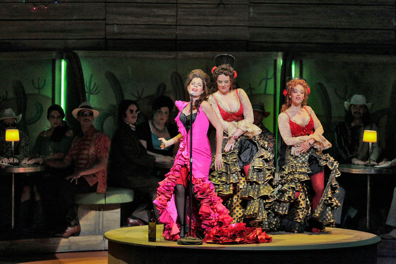 Photo credit: NY Times July 29, 2014
On our free night some took in a flamenco show, while others saw the 5th opera production – a double-bill of The Impresario (Mozart) and Le Rossignol (Stravinsky). For some attending the opera, it was a highlight of the tour. According to tour participant and opera critic Hilary Clark,  "The extra opera The Impresario (Mozart) and Le Rossignol (Stavinsky) was one of the cleverest pieces of directing I have seen. The idea of segueing from the Mozart story into a production of an opera – three singers were auditioning – was brilliant and finding the characters again in the 2nd opera was challenging but satisfying."
Another highlight was seeing the American premiere of Dr. SunYat-Sen, which we will have the opportunity to see in VO's 2015-16 season. The libretto by the Hong Kong-born playwright Candace Mui-ngam Chong offers a vivid dramatization of the turbulent times leading up to the birth of the Chinese republic and the life of the doctor-turned-revolutionary who was to become its first president. By focusing on Sun's personal life — particularly his love for his second wife, the glamorous Soong Ching-ling — Mr. Huang offers a humanizing tribute to one of the most universally revered historical figures of modern China. The preview talk, which we attended each night, helped tremendously in understanding the history, context and musicality of the work. The sets were outstanding, with rice paper screens, bamboo scaffolding and lanterns, AND Santa Fe sky! The music blends Western classical idioms with Chinese traditions into a distinctive style that is characterized by a strong dramatic bent and a great sense of pacing – all artfully conducted by Carolyn Kuan, recognized as one of the most exciting and innovative conductors of her generation (i.e. young!).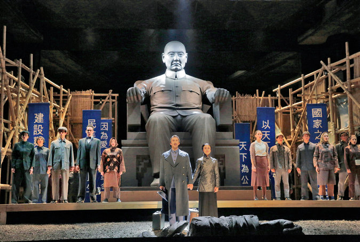 Photo credit: NY Times, July 27, 2014
We emerged from out last opera of the tour, Don Pasquale, with smiles on our faces. This romantic comedy with lovely melodies and charm was set with minimal staging which drew many laughs in the second half when Don Pasquale's room is literally turned upside down!
In between operas we packed in other tours including the Shidoni Foundry where we saw a bronze pour, the Tesuque Glassworks where we learned about the lost wax technique, and for some memorable visits to Georgia O'Keeffe's Abiqui house and studio and Ghost Ranch for the landscape tour where we were shown landscapes that O'Keeffe painted.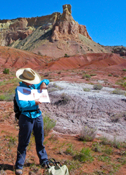 In summary – it was another wonderful experience for me as tour leader. I felt privileged to have the opportunity to help others enjoy one of my very favourite cities – Santa Fe.
The group seemed to enjoy the tour as well – giving it a 9.4 out of 10 when asked to rate: On a scale of 1 to 10, would you recommend this tour to your friends? 1=never; 10=absolutely. Here's what a few had to say: "The group was lovely – kindly and intelligent. Tours worked like clockwork. We were well informed about what was needed. There was sufficient free time to get a little more exercise, if desired (and organized)." "Santa Fe Opera not to be missed by opera lovers. Opportunity made easy by tour." "A marvelous opportunity to experience first rate opera in a beautiful setting and a community rich in history & culture."
Thank you tour participants for your feedback and being such a wonderfully responsive, enthusiastic and on-time group! I enjoyed every minute of it.
Submitted by Heather F. Clarke, Tour Leader